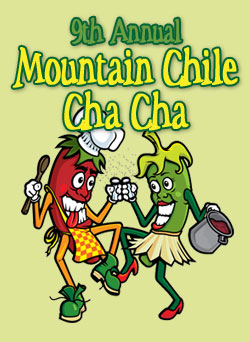 HOW TO ENTER

Enter your Green Chile:
Download form, print, fill out,
and send in!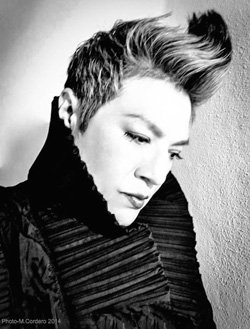 The 10th annual Mountain Chile Cha Cha will take place on Saturday, September 26 in Town Park downtown in Pagosa Springs, Colorado. The Cha Cha includes a morning trail race for all ages and abilities, a green chile cook off and tasting and a free concert in the park. The Mountain Chile Cha Cha is a no-admission, all day fall celebration. There is a big tent so this event happens rain or shine. There will be food vendors, and cold Mexican beer in the cantina. Nacha Mendez Trio from Santa Fe will get the music going at 1:00-3:00. Then local band Mitotitos will play from 3-5pm!
Much in the same way that Easterners equate the smell of pressed apples with the coming of fall, Southwesterners know it's autumn by the smell of roasting green chiles, usually the Hatch variety from New Mexico, but sometimes Big Jims, which are commonly grown around Grand Junction. The eighth annual Patty Aragon Green Chile Classic will offer up more than $600 in prize money and some pretty sweet trophies and bragging rights, this event will be slightly different than a typical chile cook-off because it ONLY features green chile, a dish that is ubiquitous in our region but not as well-known outside of New Mexico and southern Colorado.
Nacha Mendez is a singer/songwriter from Santa Fe, New Mexico whose music was aired on the first annual Latin Grammy Awards on CBS and who has performed locally, regionally, nationally, and internationally. Mendez/Cordero received a National Endowment for the Arts Award and a fellowship from Mutable Music in New York. In February 2011, she was honored by the New Mexico Committee of the National Museum of Women Artists. She was voted Best Female vocalist in Santa Fe, New Mexico in both 2009 and 2010. Voted Best Family Friendly Entertainer Santa Fe Human Rights Alliance 2012 Pride Alliance Awards and in 2013 she was awarded the Best Latin Production at the New Mexico Music Awards. She performs under her grandmother's name, Nacha Mendez, touring regionally with her band, playing her original, eclectic pan-Latin-style songs. We are excited to have her at this years Cha Cha.


8th annual Patty Aragon Green Chile Classic
Patty, who passed away 15 years ago, was locally famous for her green chile, often served on burgers and fries at Al's Café, a restaurant she ran and owned with her husband, Ross. When they closed their doors in 1992, it was the end of an era for many Pagosans. Several local restaurants have kept the green chile tradition alive and well here in town, along with legions of home cooks who continually strive for the "perfect" green chile recipe. Some people prefer scorching hot chile, others like it mild; some cooks use chicken, others use pork or no meat at all. No matter how you make your green chile, you'll have a chance to show your stuff in September and possibly win some cash or a trophy and the undying admiration of local green chile aficionados.
The Patty Aragon Green Chile Classic will be held at the Mountain Chile Cha Cha on Saturday, September 26.
$10 entry fee Download entry form here.
The Patty Aragon Green Chile Classic is proudly sponsored by:
The Pagosa Springs Dining Guide • Pagosa.com • Farrago Market & Cafe
Healing Waters Spa • The Springs Resort & Spa

More information and complete rules will be available in the next month, but for now save the date. We are currently seeking qualified judges. If you feel that you have what it takes to judge Pagosa's best green chile, please drop an email to jacque@adworkspagosasprings.com or send a brief letter detailing your qualifications and green chile experience to Jacque Aragon at AdWorks, Box 5005 Pagosa Springs, CO 81147. Or call Jacque Aragon at 970264-4237.

For more information about the trail race, and music, please visit www.joingecko.org.
GALLERY